Weekend Blog Follower Caravan 9
March 13, 2011 in B, Chakai, Coy, Lucas, Mama, marriage, Memes, Motherhood, My Life, Weekend Blog Follower Caravan by Ane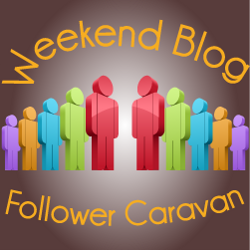 It's my very first time to join the weekend blog caravan and I joined right on time because this week's theme involves self introduction and I will always jump to an opportunity to introduce myself to new friends and remind old ones of why they like me so much. LOL.
Okay, so here goes. My full name is Nadezna Joanne D. Fallarme. Nadezna is a Russian word meaning hope. It's pronounced with a Z and not with an S. I don't use that name because it irks me when people say NadeSna. I also don't like it when people cut it short and call me DEZ or NAD, that's not my name, so please don't call me that.
My nickname is ANE, taken from my second name Joanne. 3 letters only, easy to remember, easy to spell, easy to pronounce. I have always been known as ANE at home and only used Nadezna in elementary school, I lived next door to the school head of the school I transferred to in high school, so when I enrolled in that school everyone called me by my nickname. So please call me Ane. Just Ane. 
I love having my picture taken, you can say that I am a bit of a cam whore, although I am not particularly photogenic. Eye bags and dark circles are my best friends and I know I probably look like a panda or a raccoon, but I honestly can't imagine myself not having them. I am vain, yes, but only to a certain extent. I am also very straight-forward, I don't sugar coat things but I always make it a point to say what I mean in the nicest of ways especially if it's not a good truth, I like to call it as it is. Sometimes people think I am being mean, when in fact, I am just being honest, I guess it's true what they say, not everyone can handle the truth and not anyone wants to hear it. I don't like to lie, because when you do, you need to remember things, and I have a very bad memory, so if I lie, I will be caught, so why lie? Right? I can keep a secret and you can rest assure that when I know your secret, I will take it to the grave.
My parents separated when I was only 5 and my sister was 3, I guess which is why I grew up kind of fast and didn't really have a chance at a normal childhood, I felt I needed to grow up because I had to take care of my sister, which I did and now, she takes care of me. We were raised by our maternal grand mother and we are both grandma's girls all the way through.
I am married to a man who is 11 years older than I am, his name is Rommel, but he is just B to me. No, not B as in Baby or B as in Babe, but B as in Biskwit. For the benefit of my foreigner friends: Biskwit is a tagalog word for Crackers or Cookies. He writes better than I do and he shows it off through his blogs, Switching On The Sun and W.O.R.D.S. Being a wife is not for everyone. I am blessed to have an understanding husband who loves me despite my mood swings and drama-queen moments. I'm glad I married my best friend.
We are blessed with 2 children. 9 year old Chakai and 3 year old Lucas. I used to tag Chakai along in school when I was in college, I had her when I was 19 and I was in 3rd year college by the time I was 21, she was well behaved and my teachers always saw her as the youngest student in class because it was as if she was paying attention to the lectures. I wonder if her good grades now has anything to do with the time she spent in college when she was only 2. Chakai and Lucas are the complete opposite of each other. I have always been a hands on mom and I am grateful that I was able to take care of my children on my own and had the luxury to be able to do it. It's hard work though and in as much as I love being a mom, I will not recommend it to anyone. LOL. Motherhood definitely isn't for everyone.
I love to write, which is why I started blogging. Writing was an outlet for me, when I was younger, it was my diary that kept me sane. My mom's friend encouraged me to blog and so I did, I haven't formally thanked her, so now I will. Thank you tita Cherry for encouraging me to blog!
This particular blog is about my life in general and how I manage to somehow stay try to stay gorgeous despite the stressful duties of being a wife and a mom. I blog about entertainment, fashion and anything about celebrities on my entertainment blog, A Network of Entertainment. I also blog about my experiences with the online employment system and how I make money online over at Confessions of a Not-So-Willing Workaholic.
That's about all I can think of to say right now. If you want to get to know me better, then all you have to do is come back for more.
Shout out to Mommy Rubz and the rest of Pinay Mommies Community for welcoming me into their wonderful online group.
LATM Thanks her First Commenter with Linky Love
Thank You for gracing me with your presence

There Is Nothing Wrong With Being Nosy!